RSC Energia bio
(Dec 09)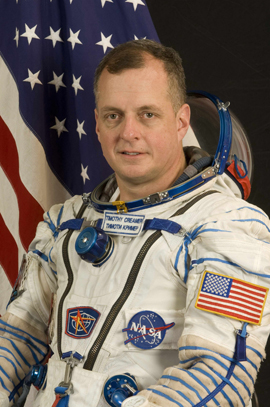 Timothy John CREAMER

ISS 22/23 Flight Engineer,
Soyuz TMA Flight Engineer,
Colonel, U.S. Army,
NASA Astronaut

DATE AND PLACE OF BIRTH:
Born November 15, 1959 in Ft. Huachuca, Arizona, but considers Upper Marlboro, Maryland, to be his hometown.

EDUCATION:
B.S., Chemistry, Loylola College, 1982.
M.S. Physics, Massachusetts Institute of Technology, 1992.

FAMILY STATUS: married.
Wife: Margaret E. Hammer. They have two sons: Patrick and Jamie.

HOBBY: tennis, running, SCUBA, German language, information technologies.

HONORS AND AWARDS:
Meritorious Service Medal, Army Achievement Medal and National Defense Service Medal.

WORK EXPERIENCE:
From May 1982 he served in the U.S. Army.
From December 1982 to August 1983 he studied at the U.S. Army Aviation School, when he finished his studies he was designated as an Army Aviator. Then he was assigned to the 1st Armored Division where he was a section leader, platoon leader, flight operations officer and a personal staff officer for the 501st Attack Helicopter Battallion.
In 1987 he was assigned to the 82nd Airborne Division as commander of air cavalry troop in the 17th Cavalry. Later he served there as the personnel officer of the 82nd Aviation Brigade.
In 1992 he was assigned to the Department of Physics at the United States Military Academy as an Assistant Professor.
He passed training in the Army Parachutist Course, Army Jumpmaster Course and the Command and General Staff College.
He worked as a Space Operations Officer, with the Army Space Command, stationed in Houston.
Since July 1995 he was a Space Shuttle vehicle integration test engineer. He conducted the equipment checks and testing before each launch. Creamer directly supported eight Shuttle missions as a vehicle integration test team lead.
He took part in the 15th and 16th astronaut selections by NASA.
In June 1998 he was enlisted in NASA astronaut corps as a mission specialist (the 17th selection). From August 1999 he passed a course of general space training and having completed his studies, he got qualification as a mission specialist and was assigned to NASA Astronaut Office. In summer 2000 Creamer was assigned to the Space Station Branch of the Astronaut Office where he was engaged in the development of the computer equipment for Space Station and Control Center, as well as the Local Area Network integrating different modules of the International Space Station.
In November 2000 Creamer became the Crew Support Astronaut for the Expedition 3 Crew.
In March 2002 Creamer headed the Hardware Integration Section of the Space Station Branch, responsible for ensuring all hardware configurations were properly integrated.
On February 13, 2007 by NASA decision he was assigned as the backup crew flight engineer for Expedition 18 to the ISS.
On February 12, 2008 NASA officially declared of his assignment to the backup crew for Expedition 19 to the ISS.
On June 16-22, 2008 in Sevastopol (the Ukraine) Creamer took part in training within the preliminary crew, together with Sergei Ryzhikov (Russia) and Shannon Walker (USA) in case of the descent module water landing.
In January 2008 it was reported that he was assigned to the prime crew for Expedition 22 to the ISS. On September 21, 2008 his assignment was confirmed in the ISS flight plan published by Roscosmos press-service. On November 21, 2008 his assignment was officially confirmed by NASA (press-release ¹08-306) when the ISS-20 - ISS-26 crew members were declared.

December 2009
Based on data of site www.astronaut.ru, www.nasa.gov.