RSC Energia bio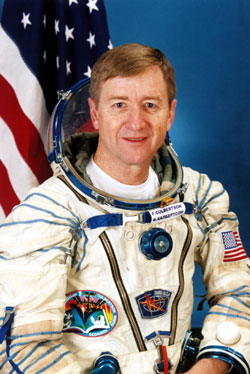 Frank Lee CULBERTSON junior

ISS commander,
flight engineer -2 for the Soyuz TM transport vehicle, retired captain of US Navy,
NASA astronaut, USA

DATE AND PLACE OF BIRTH: May 15, 1949, Charlston, South Carolina. Parents - Mrs. Culbertson and doctor Frank Culbertson senior, live in Holly Hill, South Carolina.

EDUCATION: in 1971 he took bachelor degree in aerospace machine-building at US Navy Academy (Annapolis). He passed flying training at the Air Force. In 1982 he graduated from test pilots school at Patucsent River, Maryland.
FAMILY STATUS: married, five children.
Wife - Rebecca Helen Dora Culbertson.


AWARDS AND RANKS: US Navy Aviator Cross Order, Air Force and NASA medal. Honorary graduate of US Navy Test Pilots School, honorary doctor science of Charlston College.

HOBBIES: plane flights, cycling, squash tennis, jogging, golf, photo-shooting, music, water sports. He was a member of rowing and wrestling combined team at US Navy Academy.

WORK EXPERIENCE: after graduating from the Academy he served onboard a Navy ship. Then, after flying training, - at the marine aviation and Air Force. In 1982 he became a test-pilot at the Navy. His total flight is over 5000 hours at 40 various types of planes. He performed 350 landings onboard aircraft-carrier.
In 1984 he was selected as a candidate astronaut at NASA. In 1985 he finished a course of general space training.
He worked at the launch support team at KSC.
He took part in investigation of the Challenger shuttle crash. He was Chief Leader of SAIL laboratory (integration of the software for shuttle flights) from the Astronauts Office. He headed the First Team on the Emergency Escape (evaluation of modifications of the ground escape from the shuttle). HE worked at the Astronaut Office Security Division, Chief operator at MCC.
In November, 1990, he performed his first space flight as STS-38 pilot on the Atlantis of 5 days duration.
After the first flight he worked as Deputy Manager of Crew Flight Operations Office to support Freedom space station program. He also headed Flight Support Division at the Astronaut Office and Russian Projects Office at JSC, the Mir-Shuttle Phase 1 program.
In September, 1993, he performed his second space flight as STS-51 crew commander on the Discovery Shuttle. That flight lasted 10 days. In the course of it the crew injected two satellites, one of which was captured again by the manipulator arm following 6 days stand alone flight. The flight was successfully finished on September 22 by the first night landing at KSC.
Starting at September, 1999, he has been under training as ISS-3 main crew commander.