RSC Energia bio
(Apr 09)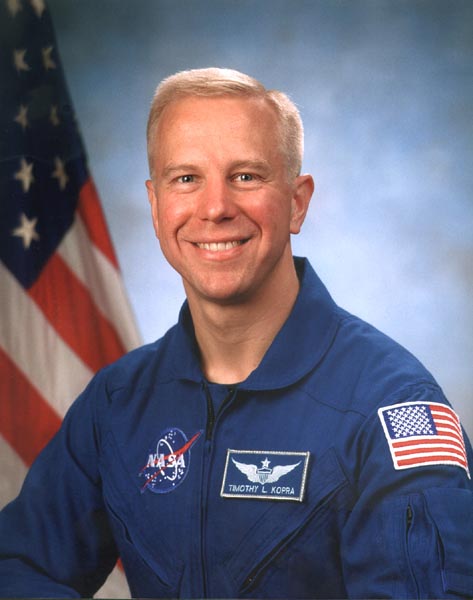 Timothy L. KOPRA

ISS Flight Engineer,
NASA Astronaut, USA

DATE AND PLACE OF BIRTH:
Born on April 9, 1963, in Austin, Texas.

EDUCATION:
He graduated from Austin High School in Austin in 1981.
In 1985 Kopra received a bachelor of science degree, Military Academy, West Point.
In 1995 he received a master of science degree (aerospace engineering), George Institute of Technology.

FAMILY STATUS: married to Dawn Kaye Lehman. They have two children.

AWARDS: several Air Force and DOD Medals.

HOBBY: running, swimming and biking.

WORK EXPERIENCE:
Since August 1986 he was the U.S. Army aviator. Up to 1990 Kopra served at Fort Campbell, Kentucky, where he served as an aeroscout platoon leader, troop executive officer, and squadron adjutant in the 101st Airborne Division's air cavalry squadron.
In 1990 he was transferred to the 3rd Armored Division in Hanau, Germany, and participated in Operations Desert Shield and Desert Storm. He completed his service in Germany as an attack helicopter company commander.
Having returned to the United States and upon graduation from Georgia Institute of Technology in 1995 he attended the U.S. Naval Test Pilot School. Upon graduation, he was assigned to the U.S. Army Aviation Technical Test Center, where be worked as an experimental test pilot on various projects and was the director for the Comanche helicopter program.
He also finished the Army Parachutist Course, Pathfinder Course, Pathfinder Course, Air Assault Course and the Command and General Staff College.
In September 1998 Kopra began to serve at the Johnson Space Center as a test engineer at the assembly-test complex. He was to test software for ISS and participate in operations for the shuttle processing.
On July 26, 2000 he was selected as a candidate for astronauts (18th selection, NASA) for training as a mission specialist. He passed a course of general space training. Upon completion of the course he was qualified as a mission specialist and assigned to the Space Station Branch of the Astronaut Office, where he was involved in testing of the crew interfaces for two ISS modules, software of the onboard computers and Local Area Network on ISS.
On January 26 - 28, 2006 Kopra within the preliminary crew, together with Maxim Suraev (Russia) and Nicole Stott (USA) participated in a two-day test for survival in the desolate territory in case of the descent vehicle emergency landing. The test was conducted in the forest near Moscow.
On February 13, 2007 by NASA decision he was assigned as a flight engineer to the backup crew of Expedition 16 to the ISS (ISS-16) and then to the backup crew of Expedition 17 to the ISS (ISS-17). Successively he was a backup of Garrett Reisman and Gregory Chamitoff.
In summer 2007 he was preliminarily assigned to the prime crew of Expedition 18 (ISS-18) to the ISS. According to these plans he was to be launched by Endeavour (STS-127) in January 2009. On November 21, 2008 his assignment was officially confirmed by NASA when declaring the ISS-20 - ISS-26 crewmembers.

April 2009
By the data of site www.astronaut.ru.