RSC Energia bio
(Sep 06)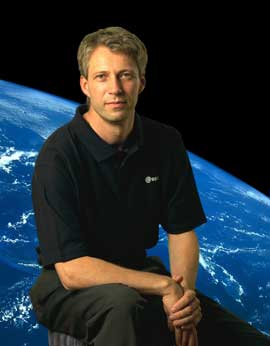 Thomas Arthur REITER

ISS Flight Engineer – 2,
Lieutenant-Colonel of the Air Force, Germany
ESA Astronaut, Germany

DATE AND PLACE OF BIRTH:
Born 23 May, 1958, in Frankfurt/Main, Land Hessen, FRG.

EDUCATION: He graduated from Goethe-High School in Neu-Isenburg in June 1977, from the Armed Forces University in Neubiberg in December 1982 and received a master of science degree in aerospace engineering.
In December 1992 he graduated from the Empire Test Pilots School in Boscombe Down, England.

FAMILY STATUS: Married.
Wife: Consuela Koestermann. They have two sons: Daniel, born in 1992, and Sebastian, born in 1997.

HOBBY: He enjoys fencing and badminton, cooking and playing the guitar.

WORK EXPERIENCE: After completion of military jet training at Sheppard Air Force Base, Texas, Thomas was qualified as a pilot and flow the Alpha-Jet in a fighter-bomber squadron based in Oldenburg, Germany. He was engaged in the development of computerized mission planning systems and became a flight-operations officer and deputy squadron commander.
In 1990 he completed the test-pilot training at the German flight test center in Manching and was qualified as Class 2 test pilot. The following year he was involved in several flight test projects and conversion training on the Tornado fighter-bomber.
In December 1992 he was qualified as Class 1 test pilot.
His flight experience includes more than 2300 hours in military combat jet aircraft of more than 15 types.
Thomas Reiter participated in European Space Agency (ESA) studies of the advanced manned space vehicle (Hermes) and development of equipment for the Columbus module, one of Europe's contribution to the International Space Station.
In 1992 he was selected to ESA's Astronaut Corps. From January to July 1993 he passed general space training at the European Astronaut Center in Cologne, Germany.
On May 7, 1993 he was assigned for the Euromir 95 mission under the Russian-European program.
From August 1993 to July 1994 he completed basic training at Yu. A. Gagarin Cosmonaut Training Center including preparation for extra-vehicular activities and operations of the Soyuz transportation system.
From August 1994 to March 1995 he passed training as a member of the group.
On March 17, 1995 he was assigned to the prime crew (together with Yuri Gidzenko and Sergei Avdeev) for Expedition-20 to the Mir Orbital Complex.
From March 30 to August 11, 1995 he passed direct training for a flight within the crew.
He performed the first space flight from September 3, 1995 to February 29, 1996 as flight engineer-2 of the Soyuz TM-22 spacecraft and Mir Orbital Complex as a participant of Expedition-20 together with Yu. P. Gidzenko and S. V. Avdeev. During the flight he performed two EVAs of the total duration of 8 hr 22 min. The flight duration was 179 days 01 hr 42 min.
From October 1996 to July 1997 he passed training at Yu. A. Gagarin CTC where he was engaged in the Soyuz-TM spacecraft operations during the return from space. Upon completion of studies he was the first from foreign astronauts who was qualified as commander of the Soyuz TM capsule.
From September 1997 to March 1999, Reiter was detached to the German Air Force as Operational Group Commander of a Tornado fighterbomber wing.
On April 1, 1999 he resumed his work at the European Astronaut Center in Cologne, Germany.
From June 1999 to March 2000 he passed training at Yu. A. Gagarin CTC where he prepared for the ISS Russian Segment operations but in January-February 2003 he passed a two-month special course under a program for the Soyuz TMA spacecraft commander during the return.
In April 2001 he was assigned to pass training for a flight as a member of a long-duration Expedition onboard the ISS.
In September 2004 he was assigned to perform a long-term flight onboard the ISS.
He began to perform his second space flight on July 4, 2006 as a flight specialist of the Discovery shuttle (STS-121). On July 6 the shuttle docking to the ISS occurred and Thomas Reiter started to work as flight engineer-2 of Expedition-13 onboard the ISS together with P. Vinogradov (Russia) and D. Williams (USA). During the flight he performed one EVA of the duration of 5 hr 54 min.

September 2006
Based on the ESA data.