RSC Energia bio
(Jan 08)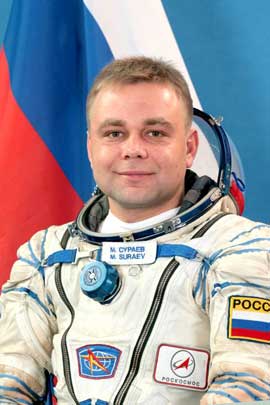 Maxim Viktorovich SURAEV

ISS Commander,
Commander of the Soyuz TMA
transport space vehicle,
RFAF Colonel,
Commander of Cosmonauts Corps Team,
RGNII CTC after Yu A. Gagarin, Russia

BIRTH DATA AND PLACE:
May 24, 1972, Chelyabinsk, RSFSR (Russia).
Father– Viktor Grigoryevich Suraev, born in 27.07.1945, AF Colonel, retired.
Mother – Varvara Vasilyevna Suraeva (Boldinova), born in 18.12.1948.

EDUCATION:
In 1994 he graduated from Kachinsk Higher Military Aviation School for Pilots after A.F. Myasnikov specializing in the field of Command Tactical Fighter Aviation, got a diploma of engineer-pilot with a higher military-special education.
In June 1997 he graduated from Military Air Force Engineering Academy after Professor N.Y. Zhukovskiy specializing in the field of Aeronautical Engineering and Armament Studies, Tests and Application.

MARITAL STATUS: married.
Wife: Anna Alexandrovna Suraeva (Kharokhordina), born in 22.01.1976.

HOBBY: Sports, books.

EXPERIENCE:
On June 24, 1997 (prior to SIMC (State Interdepartmental Military Commission) and in connection with graduating from the Academy), under the Order issued by RF Ministry of Defense, he was enrolled as test cosmonaut candidate on the staff of RGNII CTC Cosmonauts Corps.
On July 28, 1999 by the decision of SIMC he was recommended to be enlisted in RGNII CTC Cosmonauts Corps.
From January 16, 1998 to November 26, 1999 he had passed a course of general space training.
On December 1, 1999 the Interdepartmental Qualification Commission took decision to quality him as a test cosmonaut.
From January 5, 2000 he got training as a member of the Cosmonaut Team and the ISS Mission Program.
In July 2004 he took part in survival trainings in extreme situations at Baikonur Cosmodrome.
In late June 2005 he became a member of the combined cosmonauts team designated as ISS-15/16/17, upon which ISS-15, ISS-16 and ISS-17 Expedition crews had been formed.
On August 2005 he got down to training as a member of this team at RGNII CTC.
He was preliminarily expected to be included in the ISS-15 backup crew as the commander of transport space vehicle and ISS flight engineer.
From January 20 to 28 he participated as a conventional crew commander together with Nicole Stott and Timothy Copra (both – US citizens) in a two-day survival test in a deserted area in case of descent module emergency landing. The test took place in the forest near Moscow.
In May 2006 Roscosmos, RGNII CTC and RSC Energia took a preliminary decision to appoint him the flight engineer of the ISS-17 backup crew and ISS-19 prime crew.
On November 6, 2007 at the meeting of Roscosmos Interdepartmental Commission for the Selecting Cosmonauts and their Enlistment in Crews of Manned Space Vehicles and Stations he was approved to serve as commander of ISS-17 backup crew and backup commander of Soyuz-TMA-12 transport manned space vehicle, which is scheduled to be launched on April 8, 2008.
In August 2007 he was tentatively assigned to backup crew of Expedition 19 (ISS-19A) to the ISS. As expected, the prime crew is to be launched by Soyuz TMA-14 in March 2009.
In January 2008 it was reported that he had been assigned to the prime crew of Expedition 20 (ISS-20B) to the ISS. Crew is scheduled to be launched by Soyuz TMA-17 space vehicle in November 2009.

January 2008.
Materials provided by RGNII CTC after Yu.A. Gagarin
and Handbook "Soviet and Russian Cosmonauts. 1960-2000".