RSC Energia bio
(Sep 04)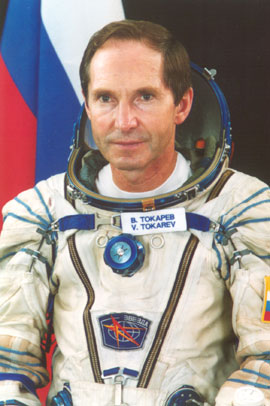 Valery Ivanovich TOKAREV

ISS Flight Engineer,
Soyuz TMA TSC Commander,
RF AF Colonel,
Test Cosmonaut of Yu. A. Gagarin CTC, Russia

DATE AND PLACE OF BIRTH: October 29, 1952, Kapustin Yar, Vladimir Region, Astrakhan Area, RSFSR (Russia).
Father: Ivan Pavlovich Tokarev, (1926 - 1972).
Mother: Lidia Nokolaevna Tokareva (Burova), born in 1928, a pensioner.

EDUCATION: In 1973 he graduated from Stavropol Higher Military Aviation School for Pilots and Navigators. In 1982 he completed with honours his studies at the Test Pilot Training Center (TPTC) in Ahtubinsk. In 1989-1993 he studied by correspondence at the Yu. A. Gagarin Military Air Academy in Monino and in 1996-1997 - at the Academy of National Economy under the Russian Federation Government, full-time/correspondence tuition.

FAMILY STATUS: Married.
Wife: Irina Nikolaevna Tokareva (Gavrilova), born in 1955, a guide, a house-wife.
Daughter: Olga Valerievna Lachko (Tokareva), born in 1976, a secretary-reader.
Son: Ivan Valerievich Tokarev, born in 1987, a schoolboy.

AWARDS AND RANKS: Hero of the Russian Federation (2000), Pilot Cosmonaut of the Russian Federation (1999), decorated with the Gold Star Medal of the Hero of the Russian Federation, Order for Service to Motherland in the USSR Air Forces Third Class (1978), RF Medals, Spacecflight Medal, NASA (1999). Honourary Citizen of Rostov, Yaroslavl Area.

HOBBY: Sports and games, tennis, motoring, out-door rest.

WORK EXPERIENCE: From 1973 to 1981 he served as a pilot, master pilot, commander of the flight section, deputy commander of the air squardron of the fighter air regiment in the Air Force troops of Privolzh'ye military district.
Since 1982 after completion of studies at TPTC he had been engaged in the test operation.
From 1982 to 1992 he served as a test pilot, master test pilot of a branch of the State Red Banner Research/Test Institute of Air Forces (AF GKNII) after V.P. Chkalov in the Crimea, Odessa military district. He mastered more than 40 types of airplanes and helicopters, logged more than 3000 hours. Participated in more than 70 tests. He has a qualification of a 1-st Class Military Pilot, 1-st Class Military Test Pilot.
On January 15, 1993 by Order of the Ministry of Defence of the Russian Federation he was assigned to the following post: a test cosmonaut, master test pilot of AF GKNII cosmonaut team.
In January 1994 he was assigned to a post of AF GKNII cosmonaut team commander.
In 1996 by directive of AF General headquarters the cosmonaut team of AF GKNII was disbanded.
On September 16, 1997 by Order of Air Commander-In-Chief he was enlisted in the cosmonaut detachment of the Cosmonaut Training Center and taken on as test cosmonaut.
From May 1989 to April 1991 he passed a coarse of general space training at Yu. A. Gagarin Cosmonaut Training Center.
On April 5, 1991 by decision of the Interdepartmental Qualification Committee he was qualified as a test cosmonaut.
In December 1998 by decision of the Joint (RSA and NASA) Committee for planning of flights to the ISS he was assigned to STS-96 crew.
From January to May 1999 he was in training within STS-96 crew at the Johnson Space Center, USA.
From May 27 to June 6, 1999 he performed his first space flight as a mission specialist of the Discovery Shuttle (STS-96) under the ISS assembly (mission 2A.1) and became the second Russian cosmonaut who visited the ISS.
The mission duration was 9 days 19 hours 13 min 01 s.
He was in training as the second crew commander of the Soyuz TM TSC (the first Russian visiting crew of the ISS) under the ISS-taxi program.
He passed training within the ISS-8 Backup Crew as a flight engineer.
Presently he is training for a space flight as a flight engineer within the ISS-10 Backup Crew.

September 2004
By the data presented by Gagarin Cosmonaut Training Center and reference book The Soviet and Russian Cosmonauts, 1960-2000.