China Daily
biography
(26 Sep 08)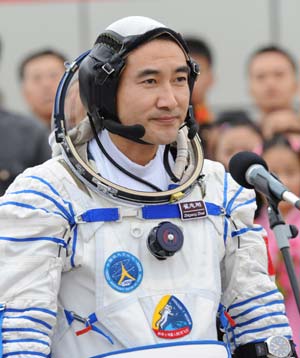 When astronaut Zhai Zhigang was a middle school student, he wrote: "I have a dream to fly into outer space so I can get a good look at Earth." This dream came true nearly three decades later, when the Shenzhou VII spacecraft lifted off from Gansu province last night with Zhai and two other astronauts aboard. And by tomorrow, Zhai would become the first Chinese to walk in outer space. He failed to be selected in two previous Shenzhou missions.
"The worst-case scenario for me is becoming a real spaceman - that is, never coming back again once I get out of the spacecraft," Zhai said in an interview on Wednesday.But for me, the chance of that happening is only 0 percent," he said, smiling.
In addition to a 40-minute spacewalk, Zhai would also get the chance to have a private space-to-earth conversation with his family in Heilongjiang province. But he regretted he would not be able to talk to his mother, Jia Guizhi, who died five years ago. He might not have ever been able to make his dream come true without his mother, who worked as a snack street vendor, he said.
Born to a poor family in Heilongjiang's Longjiang township, Jia's small business of selling fried sunflower seeds in the streets was the family's only reliable income, because Zhai's father was confined to bed due to illness. In addition to supporting the poor family, Jia's biggest wish was that her six children could achieve something outstanding. She was overjoyed when Zhai was accepted by the PLA Air Force Aviation Institute in 1985.
Zhai's elder brother recalled that upon hearing the news, Jia exclaimed: "My son's outstanding!" But Zhai's education placed a huge burden on the family.
After borrowing 25 yuan from a neighbor to buy a traveling bag for Zhai, Jia could give him nothing more on the eve of his departure for Beijing than enough sunflower seeds to fill the bag. "My mother greatly influenced my life, and she lives deep in my memories," Zhai said. "If I lived up to her expectations by becoming a pilot, then I really made her proud when I was selected to be an astronaut."