China Daily
biography
(12 Oct 05)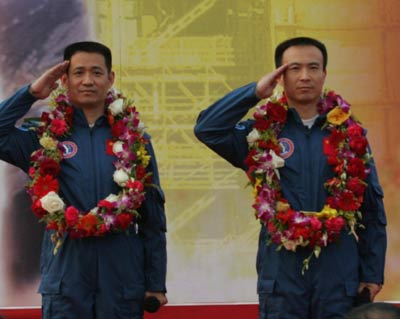 Fei Junlong (left) and Nie Haisheng (right), two former fighter pilots from southern China, will be in space soon aboard China's second manned spacecraft Shenzhou-6 Wednesday morning
A native of Kunshan City, Jiangsu Province, Fei, 40, did not expect he could have the honor to become an astronaut piloting Shenzhou-6 when he dreamed about being a professional painter in his childhood.
The most remarkable difference between Fei and Yang Liwei, China's first man in space, is that Fei is one of a few top pilots in the country. "In preparation for the flight of Shenzhou-5, China's first manned spacecraft carrying Yang in space, Fei was one of the five candidates under the final intensive training," Yang told Xinhua.
In 1982, China's Air Force recruited trainees at Fei's high school when he was about to graduate. Fei was enrolled. Two years later, Fei graduated from the Flight Training School of the Air Force with excellent marks. Then he served as flight trainer initially and was appraised as outstanding in the whole Air Force. Later on, he became a flight technology inspector and compiled an investigation report on flight accidents, named "Warning Signal Tolling".
In July 1992 when he was in a trial flight, the aircraft being tested went short of fuel. With his outstanding flight skill, he managed to pilot the plane back to the airport. Upon the forced landing, fuel exhausted. His courage, skill and cool and calm mindset won him a special grade in piloting at the age of 32.
In January 1998, he was selected out of more than 1,500 elite pilots as a member of the astronaut brigade of the People's Liberation Army, together with Yang Liwei, Nie Haisheng and Zhai Zhigang.
Fei recorded excellent marks in almost all training subjects, ranging from basic theories to physical exercises, from professional skills to training of endurance and adaptability to the space environment, and from flight procedures and mission simulation to psychological and rescue training.
Fei did not tell his parents the real job he was undertaking. "What are you doing on earth?" his mother once asked. "Still flying, but much higher," Fei replied.