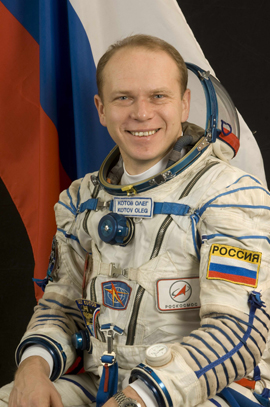 KOTOV Oleg Valerievich

ISS-22 Flight Engineer,
ISS-23 Commander,
Commander of the Soyuz TMA TS,
RFAF Colonel,
Pilot-Cosmonaut of RF, Gagarin CTC RI Cosmonaut Detachment, Russia

BIRTH DATA AND PLACE:
October 27, 1965, Simferopol, the Ukrainian Soviet Socialist Republic (the Ukraine).
Farther: Valery Ephimovich Kotov, born in 1939, a colonel, served in the staff of the Defence Ministry.
Mother: Elena Ivanovna Kotova, born in 1941, head of department of Gidrospetsfundamentstroy trust.

EDUCATION:
On July 8, 1988 he graduated from the physician training faculty (for the Air Forces) of the Kirov Military Medical Academy with a diploma of military physician and specialization: Treatment-and Prophylactic Science.
From November 1988 to December 1990 he passed a course of training at the General Military Research Air Hospital (GMRAH) where he studied procedures of the flight personnel examination in the altitude chamber and was admitted to independent work with altitude chamber ÑÁK-80 to provide the altitude training of cosmonauts.
In 1992 he graduated from Moscow Institute of Industrial Property and Innovations with specialization: Patenting.
In 1996-1998 he studied and graduated from Kachinsk Military Pilot College as an external student; he passed specialized training as an engineer pilot.

MARITAL STATUS: married.
Wife: Svetlana Nikolaevna Kotova (Buniakina), born in 1967.
Daughter: Valeria Olegovna Kotova, born in 1994.
Son: Dmitry Olegovich Kotov, born in 2002.

HONOURS AND GOVERNMENT AWARDS:
Hero of the Russian Federation. He is awarded The Combat Heroism Russian Federation Armed Forces Medal of I and II degrees, the Service Medal of I, II and III degrees.

HOBBY: swimming, computers.

WORK EXPERIENCE:
From August 5, 1982 he was a student of Kirov Military Medical Academy.
From July 8, 1988 he was an assistant leading physician of the Cosmonaut Training Center Direction 3. He provided training for individual tolerance of different degrees of the atmosphere rarefaction, trained crews for the Mir Orbital Complex.
From March 17, 1993 to the enlistment in the cosmonaut corps. he was the leading test physician-senior research worker of the Cosmonaut Training Center (NII 1). He worked as an instructor in biomedical training of the Mir Orbital Complex crews, was a physician of PC-20 crew.
On February 9, 1996 he was recommended for enlistment in the CTC cosmonaut corps by decision of the State Interdepartmental Committee.
On June 7, 1996 he was enlisted as a candidate for research cosmonauts of Gagarin Cosmonaut Training Center by Order of the Air Commander-in Chief.
From June 3, 1996 to March 18, 1998 he passed a course of general space training and on March 20, 1998 by decision of the Interdepartmental Qualification Committee (IDQC) he was qualified as a research cosmonaut.
From May to July 1998 he passed training as a research cosmonaut of the backup crew under PC-26 program for a spaceflight onboard the Soyuz TM TSC and Mir Orbital Complex, together with S. Zaletin and A. Kaleri.
On August 13, 1998 he was a backup of the Soyuz TM-28 TSC research cosmonaut Yu. Baturin.
Since October 1998 he passes training within the test cosmonaut group for flights onboard the ISS.
From March to October 1999 he was a co-ordinator of the Cosmonaut Training Center at NASA.
On December 1, 1999 by decision of the Interdepartmental Qualification Committee he was qualified as a test cosmonaut.
From October 2002 to Mach 2003 he passed training within the VC-5 backup crew together with P. Vinogradov as the Soyuz TMA TSC commander.
From February 2004 to October 2005 he passed training within the ISS-13 backup crew as the ISS flight engineer and the Soyuz TMA TSC commander.
Since January 2006 he passes training within the ISS-15 prime crew as the Soyuz TMA TSC commander and the ISS flight engineer.
From May 26 to June 2, 2006 in Sevastopol (the Ukraine) he passed training in activities in case of off-nominal water landing of the descent module within the preliminary crew together with Fedor Yurchikhin and Anousheh Ansari (USA).

He performed his first space flight from April 7 to October 21, 2007 as the Soyuz TMA-10 spacecraft commander and the ISS flight engineer under the program of Expedition-15 (prime crew) together with Fedor Yurchikhin and Charles Simonyi. During the flight he performed two spacewalks of the duration of 5 hr 25 min on May 30, 2007 and 5 hr 38 min on June 06, 2007.
The total mission duration was 196 days 17 hr 4 min 58 s.

In July 2008 it was reported that he was assigned to the prime crew for Expedition-22 to the ISS. On September 21, 2008 his assignment was confirmed in the ISS flight plan published by Roscosmos press-service.
On November 21, 2008 his assignment was officially confirmed by NASA (press-release ¹08-306) when the ISS-20-ISS-26 crew members were declared.
In October 2009 at the Baikonur cosmodrome he took part in training in Mini-Research Module (MRM2).

December 2009.
Materials provided by CTC after Yu.A. Gagarin,
Handbook "Soviet and Russian Cosmonauts. 1960-2000"
and site www.astronaut.ru.