RSC Energia bio:
(May 2010)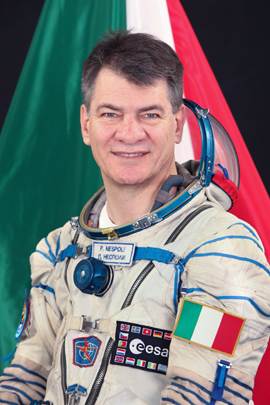 Paolo Angelo NESPOLI

ESA Astronaut, Italy

DATE AND PLACE OF BIRTH:
Born on April 6, 1957 in Milan, Italy.

EDUCATION: In 1988 Nespoli received a Bachelor of Science in Aerospace Engineering from the Polytechnic University of New York, USA. In 1989 he received a Master of Science in Aeronautics and Astronautics from the same University. In 1990 Nespoli received a Bachelor of Science in engineering mechanics.

FAMILY STATUS: Married.

HOBBY: Has licenses of a private pilot and a skin-diver.

WORK EXPERIENCE:
In 1977 upon graduation from the Paolo Frisi lyceum in Milan he was drafted by the Italian Army and worked as a parachute instructor at the Scuola Militare di Paracadutismo of Pisa and since 1980 he worked as a Special Forces operator of the 9 Btg d'Assalto "Col Moschin" of Livorno.
In 1982-1984 Nespoli was assigned to the Italian contingent of the Multinational Peacekeeping Force in Beirut, Lebanon. After his return to Italy, he was appointed an officer and continued service.
Having graduated from the University and retied from the army as a major in 1987, he returned to Italy to work as a design engineer for Proel Tecnologie in Florence. Nespoli conducted mechanical analysis and participated in tests of the Electron Gun Assemblies for the Italian Tethered Satellite System TSS.
In 1991, he joined ESA's European Astronaut Center in Cologne, Germany. He took part in support of the astronaut training and in 1995 was sent on a mission to Noordwijk and led a group responsible for preparation of personal computers used on the Mir Space Station.
In 1996 Nespoli was reported to Johnson Space Center (NASA) where he took part in the training preparation for the ISS crews.
In July 1998 the Italian Space Agency (ASI) selected Paolo Nespoli as an astronaut candidate, and on August 1, 1998 he was enlisted in ESA's European Astronaut Corps (the 3-rd selection). In August 1998 he began general space training (GST) at Johnson Space Center and in 2000 he completed a course of general space training and was qualified as a mission specialist. Besides, in July 2001 Nespoli completed training in the Shuttle robotics arm control and in September 2003 - in the extravehicular activity.
On June 19, 2006 he was as signed to STS-120 crew.
Nespoli performed his first space flight from October 23 to November 7, 2007 as the Discovery Orbiter mission specialist under STS-120 program. The main mission task was the delivery of the Italian-built Node Harmony to the International Space Station, relocation of the Ð6 Solar Array to its nominal place and also rotation of the Station crew flight engineer-2. The mission duration was 15 days, 2 hours and 23 minutes.
On November 21, 2008 by NASA decision (press release ¹08-306) he was assigned as a flight engineer in the ISS-24 Expedition backup crew and the ISS-26 Expedition prime crew. On October 7, 2009 his assignment was confirmed by NASA once more (press release ¹09-233).

May 2010.
Based on data of site www.esa.int and www.astronaut.ru
and Cosmonautics News Journal.