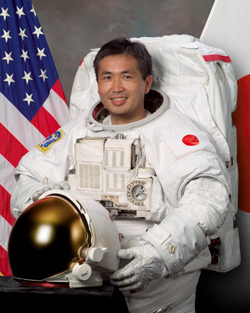 Koichi WAKATA

ISS Flight Engineer-2
NASDÀ Astronaut, Japan


DATE AND PLACE OF BIRTH:
August 1, 1963, in Omiya, Saitama prefecture, Japan

EDUCATION:
Graduated from Urawa High School in 1982.
Received a Bachelor of Science degree in Aeronautical Engineering from Kyushu University in 1987.
Received a Master of Science degree in Applied Mechanics from the same University in 1989.



HOBBY:
Skiing, basket-ball, tennis, hang-gliding.

MARITAL STATUS:
Married to Stefanie von Sachsen-Altenburg, German from Bonn. They have a son.

WORK EXPERIENCE:
In April 1989 he began to work as an engineer in Japan Airlines (JAL) and for 3 months passed training and then was assigned to the Base Maintenance Department, Narita.
From July 1991 to May 1992 he was assigned to the Engineering Department of JAL where he was involved in research of structural integrity of transport aircraft, as well as in the program of corrosion prevention. He has logged over 1100 hours in a variety of aircraft.
In April 1992 he was selected as an astronaut candidate by the National Space Development Agency of Japan (NASDÀ). From March 1992 to August 1993 he completed one year of general space training (as an astronaut candidate of NASA 14-th selection) at the Johnson Space Center, USA and was qualified as a Mission Specialist on the Space Shuttle. Then Koichi Wakata was assigned to the Astronaut Office Computer Support Branch. On December12, 1994 he was assigned to the crew of STS-72 as a Mission Specialist.
He performed his first space flight on January 11-20, 1996 as a Mission Specialist of the Endeavour Shuttle (STS-72). The flight duration was 8 days 22 hours 00 min.
From 1996 to 1998 he worked at the Astronaut Office EVA/Robotics Branch. On June 2, 1997 he was assigned to the crew of the Discovery Shuttle (STS-92) under the Space Station assembly program (ISS-05-3A). As a result he became the first Japanese who visited the Station.
He performed the second space flight on October 11-24, 2000 as a Mission Specialist in the crew of the Discovery Shuttle (STS-92 ISS-05-3A). The main objective of the mission was the delivery of the Zl Truss section. The flight duration was 12 days 21 hours 44 min.
From August 26 to September 6, 2002 Koichi Wakata took part in trainings (under the program of flights to the International Space Station -ISS) based on the European Astronaut Centre - EAC, Cologne in Germany. In December 2005 he began training at Yu.A. Gagarin Cosmonaut Training Center for a long-duration expedition on the International Space Station (ISS) of the duration of three-six months. In August by the joint decision of Roskosmos and NASA he was assigned as a preliminary to the prime crew of ISS-16. The same month he began to study the Soyuz TMA spacecraft systems. Later he was removed from the crew of ISS-16. At a period of January 16-27, 2007 in the forest country 30 km from Moscow he participated in trainings to survive within the preliminary crew together with Salizhan Sharipov (Russia) and Soichi Noguchi (Japan). On February 13, 2007 by NASA decision he was assigned as a flight engineer to ISS Expedition 18 (ISS-18).

February 2009
Based on data of site astronaut.ru.